About Us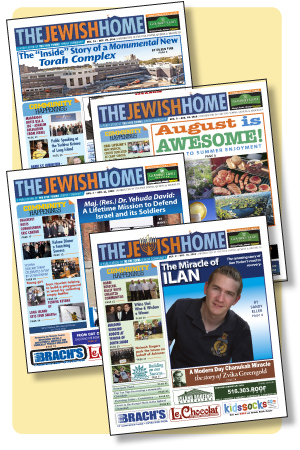 The Jewish Home is a weekly family magazine/newspaper that focuses on world news, community happenings, human interest stories, humor, parenting and educational topics and much, much more. The Jewish Home, a free publication, maintains an appeal to a broad reader base with its vast array of content, world renowned writers and eye-catching advertisements. Due to its vast popularity and growing demand, The Jewish Home is now available in many communities throughout Long Island, Queens and Brooklyn.
Format
The format of The Jewish Home is magazine style: glossy cover, stapled and straight edged pages, well designed content and eye-catching graphics. The Jewish Home a weekly publication with a vast amount of content that guarantees more reading time than the average few minutes needed to peruse the local advertising circulars. According to recent studies, a magazine generally has a 29 day shelf life and is often passed along to other readers beyond that timeframe. The clean and neat design in conjunction with the high level of content ensures that The Jewish Home does not get thrown out on Saturday night. Some of the frequent comments heard from readers include, "I take it on the train with me" and "I keep it on my night table." Your ad in The Jewish Home will be viewed by each reader of each household many times over the course the week.
Circulation
Every Thursday, The Jewish Home is placed in over 165 shuls and businesses throughout The Five Towns, Far Rockaway, West Hempstead, Long Beach, Queens and Brooklyn. The current print run each week is 10,000 glossy covered magazines — all of which are usually gone within a few days. Additionally, The Jewish Home is distributed in numerous community schools.
Readership
The Jewish Home is sought after and read by affluent and middle class Orthodox Jewish families of all affiliations. The wide array of content along with its non-denominational nature ensures its appeal to members of every household throughout the above mentioned communities. Another attraction of The Jewish Home is the participation of local organizations. Various features are provided by professionals from eight local Five Towns and Far Rockaway schools and other organizations that provide various services in the Orthodox Jewish community, including special education, crisis and illness, teen mentoring, Israel related projects and general charity work. This strengthens the publicity and distribution of The Jewish Home because each partnering organization is motivated to ensure that The Jewish Home is well received and enjoyed, thereby maximizing its exposure.